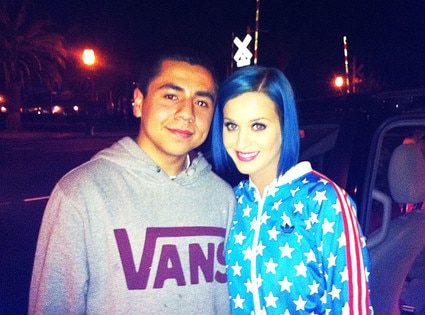 Eric Berlanger / Splash News
Some people wear their heart on their sleeve. Katy Perry seems to be wearing hers on her hair.
And there was something different about her...oh, yeah: blue hair!
Katy's tresses have been on quite the transformation in the past year, going from black to pink to blond to pinky-blond to lavender, so it was probably only a matter of time before she returned to her blue hue.
In full makeup and wearing a star-spangled Adidas tracksuit, Katy graciously posed for a snap with fan Eric Berlanga, who purportedly caught up with the star in Santa Barbara, Calif., where she was leaving the set of a commercial for the sportswear company.
And while her hair was blue, her mood was reportedly anything but.
MORE: Katy's pastor dad "sorry" for anti-Semitic remarks
Berlanga told The Sun that Perry "was great, really nice, she seemed happy." And apparently had quite a good memory, remembering the fan from previous encounters.
"She was in a van and saw me. I waved and she made the driver of the van stop and she lowered the window and I went up to her and she put out her hand and said: 'Hey it's good to see you again!'
"I said the same and then I asked if I could take a picture with her and she said yes and got out of the van and gave me a hug and told me I smell good, then we took the two pictures."
Not exactly fireworks, but it'll do. Welcome back, Katy—here's hoping we start seeing more of you again!